10 Signs You Are An ENFP
Are you an ENFP?
If you are an ENFP, you will relate to all of the following traits:
1. A Highly Creative Nature
You are easily overwhelmed by the real world, and find it most recharging to be inside your own head. You are trying to learn to put yourself out there without becoming stressed.
2. An eye for nuance
The ENFP sees multiple layers in everything. Nothing is ever at face value for you. There are always multiple versions of the truth.
3. A love for change
The ENFP Personality Type prefers a varied and stimulating day. You prefer to keep things open and flexible, so you can do what feels best during the day.
4. A Passionate nature
The ENFP Personality Type is highly passionate and a natural advocate for the causes or communities they care about.
5. From the one to the many
You can draw a lot of conclusions from little or limited information. You are able to see multiple possibilities and to consider multiple different angles.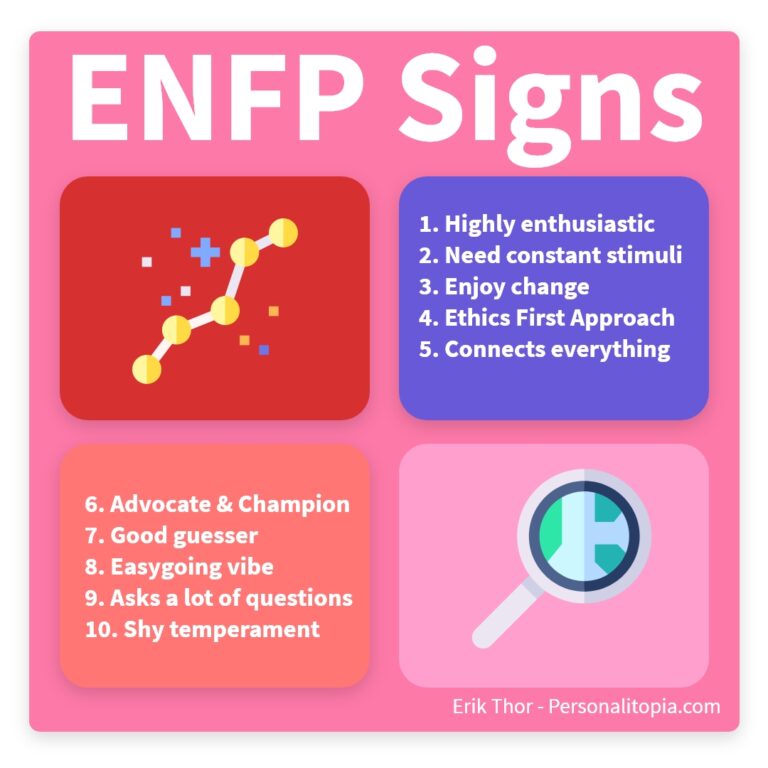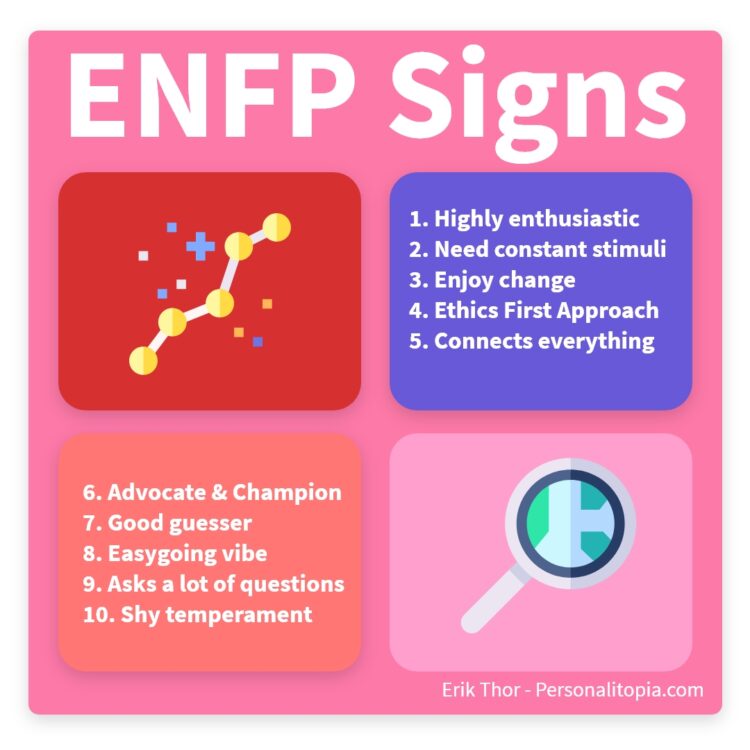 6. You report on wrongdoings
ENFPs tend to be natural journalists and you keep track of what happens in your community and society. ENFPs are whistleblowers when things are wrong and you try to get the truth out to people.
7. You question everything
ENFPs question everything they see and hear. You are naturally curious, so you want to know everything about everything. You've probably annoyed your teacher by raising the hand one too many times.
8. Sanguine temperament
ENTPs are sanguine types that have a cheerful mood or disposition. You are enthusiastic about what you do and keep an optimistic spirit up.
9. Vivid imagination
The ENFP often experiences striking images, vivid, colorful dreams, and strong inner sensations. The inner world is real and profound to you. It can be hard for you to tell apart reality from dreams.
10. Nervous disposition
The ENFP is notoriously easily startled and sensitive to sudden sounds and sensations. If things happen that are outside what the ENFP expects, they may become nervous or rattled.
Check out my video where I discuss different ENFP Subtypes here.